Our Team
Prime Living - The Luxury Lifestyle magazine of Texas has named Driftwood Estate Winery as the Winner for Best Texas Wine in their annual Readers' Choice Awards.
In addition to this prestigious honour we also received the saddle trophy from the Houston Livestock Show International Wine Competition for "Top Texas Wine"
January 2023 in San Francisco in what many believe is America's wine city of choice. The San Francisco Chronicle hosts a well-respected wine competition using mostly California wine judges. Twelve unknown Texas wines took top varietal wines besting those well-known California wines. This is big since these unknowns from Texas beat out the best that California had to offer. Those 12 included:
• Driftwood Estate Winery 2022 Dry Rose (blend)
• Driftwood Estate Winery 2019 Syrah
• Driftwood Estate Winery 2019 Alamo Red (red blend)
---

Gary Elliott
Owner / Winemaker / Grower
Gary is the owner, winemaker and grower for Driftwood Estate Winery. He has spent the last 25 years making sure that he and his team produce the best grapes and wine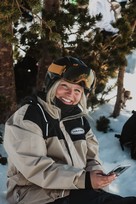 Laura Elliott
Marketing Manager
Laura is the Marketing Manager for Driftwood Estate Winery. Over the years, she has been in charge of graphic design work, social media and purchasing of merchandise for our shop.
Silvia Hsia
Chief Financial Officer
Silvia has a tremendous amount of financial knowledge as she had her own bookkeeping business for a number of years before coming to work for Driftwood Estate Winery.
Jackie VanSant Downes
Winemaker
Jackie previously worked in the Northern California wine industry, where she gained her knowledge and experience. Since joining Driftwood Estate Winery she has produced a number of award winning wines.